ABOUT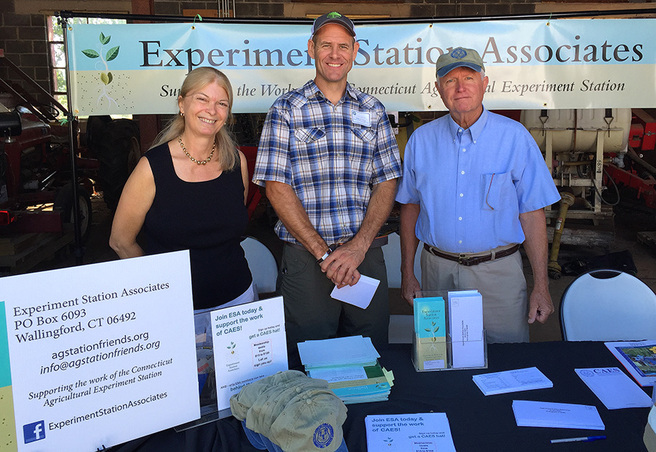 The weather was fantastic for the 106th annual Plant Science Day at CAES's Lockwood Farm in Hamden. We signed up 36 members, many of them new. Here, from left to right, the ESA booth is being manned by Anne Rowlands, Bruce Lindsay and Stephen Wing.
The Experiment Station Associates is a 501(c)(3) friends group that supports the work of The Connecticut Agricultural Experiment Station (CAES).
CAES is a world-class research facility that directly benefits Connecticut. They disseminate scientific knowledge that improves agriculture, horticulture, the environment, food safety, public health and our quality of life. James G. Horsfall, director of CAES from 1948-1971, said "The station was an invention for making inventions."
The Experiment Station was the first of its kind in the nation and served as the model for the many that followed. Established in 1875, primarily through the efforts of Samuel W. Johnson,
the Station was founded to "put science to work for society." Johnson believed that agriculture could be advanced by scientific investigation performed in conjunction with practical experimentation.
The board of directors meets four times a year. We hold an annual meeting in the early spring in the Jones Auditorium at CAES in New Haven. The annual meeting is open to the public and features a guest speaker from CAES. There are also occasional tours and workshops. To contact us, email
info@agstationfriends.org
BOARD of DIRECTORSExecutive Committee
President: Barbara Yaeger -
pres@agstationfriends.org
Vice President: Skip Hobbs -
vp@agstationfriends.org
Treasurer: Shirley Hall
Secretary: Ellie Tessmer
Ex Officio
Dr. Theodore G. Andreadis, director of CAES
William Mackie Rowlands, past president
Term Expiring 2018
Anne Rowlands, Fairfield
Bill Urban, Seymour
Stephen Wing, Milford
Term Expiring 2019
Shirley Hall, Wallingford
Skip Hobbs, New Canaan
Ellie Tessmer, Wallingford
​Barbara Yaeger, Madison
Term Expiring 2020
Trish Helm, New Haven
Jude Hsiang, Bethany
Ed Walsh, Woodbridge
​Tom Woodruff, Hamden